With pristine, glorious mountain peaks, breathtaking scenery, a quaint historic district, and world-class skiing, Telluride is certainly one of the most beautiful towns of Colorado.
While it is a top global destination for skiing, Telluride boasts four seasons of ultimate adventures. Brimming with family-friendly attractions and countless recreational activities, this picturesque town is a dream getaway for holiday seekers of all ages.
Here's a guide to family-sized things to do in Telluride,Colorado.
Table of Contents
Winter outdoor activities
Surrounded by spectacular vistas of Colorado's San Juan Mountains, picture-perfect powder, and exceptional skiing terrain, Telluride is truly a winter wonderland.
This highly sought-after skiing destination consistently receives international accolades, including the # 1 Ski Resort in North America by Condé Nast Traveler, the #1 ski resort in North America​ by USA Today, one of the Top Ski Resorts by Readers'Choice Awards, and one of the Best Small Towns to Visit in the USA.
Families will have their fill of winter outdoor activities that set the bar high for an incredible winter holiday.
Skiing and snowboarding
Skiing is definitely one of the best things to do in Telluride. Nestled within the San Juan Mountains, which is said to have the highest concentration of 13,000 to 14,000 towering peaks in North America, the town boasts awe-inspiring slopes and mountain views that draw countless professional and amateur skiers from all parts of the world.
With an average 300 inches of snow yearly and 2,000 acres of terrain, the town is truly a skiing and snowboarding paradise. There's a good mix of beginner, intermediate and expert trails so skiers of all skill levels can enjoy the slopes.
Kids can safely ski and snowboard in The Meadows, a collection of six beginner-rated trails with 320-foot covered surface. Your little ones can learn from the pros at Telluride Ski School, offering world-class ski instructions for children as young as 2.5 years old. See here to know more about kid-friendly trails in Telluride.
Snowmobiling
The snowcapped mountains of Telluride is a beautiful playground for snowmobiling. For a day of fueled family adventure, snowmobile tours allow you to venture into mountain trails not usually accessible in winter. Local guides provide snowmobile tours and trail rides for all ages and skill levels.
Sledding
The alpine beauty of Telluride is perfect for some frosty sledding fun. During your winter visit, create an awesome sledding experience for the family and have a shared adventure to be cherished for a lifetime.
The outdoor family activity is available on Firecracker Hill, one of the popular sledding hills in the country. You can bring your own sleds or rent the right gear from the Nordic Center.
Ice Skating
A great way to spend a day off from skiing, ice skating in Telluride is a terrific winter activity for the family. Glide around in various outdoor ice rinks in the resort and take in the cool winter air.
The Indoor Town Park Rink in Town Park is usually open from mid-November to April. This ice rink has a warming area and bathrooms in the facility for that much needed break from the cold. The Mountain Village Ice Rink in the heart of Telluride Mountain Village is another great place to visit. It is open daily during the winter season.
Heli-skiing
If anyone in the family wants to take skiing to an extreme level, then helicopter skiing is an exhilarating exploit. Heli-skiing gives you exclusive fly-in access to the highest altitude powder, and the ultimate thrill of jumping out of a helicopter for a high-octane drop in the San Juan Mountains.
Winter sports enthusiasts who travel around the globe find heli-skiing one of the best things to do in Telluride, CO. Book heli-skiing through Telluride Helitrax.
Summer activities
Telluride is more than just a winter paradise. As soon as the snow melts and water flows in the rivers, the charming mountain town comes alive with the excitement of summer. With the warm Colorado sunshine, diverse outdoor attractions, beautiful and lush scenery, most locals and visitors stay for a splendid summer holiday.
Here are the best things to do in Telluride, CO during summer.
Go hiking
During the spring and summer months, Telluride's mountains reveal an abundance of stunning hiking trails. The all-time favorite Bear Creek Trail is moderately steep and makes for a great hike with kids. It traverses the aspen forests and rolling meadows of the Bear Creek Preserve, and ends at the foot of the astounding Bear Creek Falls.
The Jud Wiebe Trail is rated as one of the best hikes in Colorado. Situated near an old gold mining town, the trail provides a panoramic view of Ajax Peak , Bear Creek, canyon bedrocks, and the mighty San Miguel River.
For experienced hikers, Mount Sneffels is a staggering trail to conquer, but once you reach the peak at 14,150 feet, the views feel like you're on top of the world. Via Ferrata is a more technical route, as hikers climb along a narrow ledge 500 feet high over the edge of an exposed cliff. Not for the faint-hearted, this trail require special gears, and guides are recommended.
Visit the Historical Museum
A gold mining town in 1878 and officially designated as a National Historic Landmark District in 1964, the town of Telluride is an attraction in itself. Get to know the community's rich history and its transformation through various eras by visiting the Telluride Historical Museum.
Housed in the restored 1896 miners' hospital, the museum preserves the town's early history, from the days of the earliest settlers, to its mining and skiing eras. Take a guided walking tour, and learn about Telluride's Victorian architecture. A 3D rotating gallery display brings the museum to life and kids will enjoy fun activities such as digging gems and becoming miners. Check museum hours here.
Horseback riding
Saddle up for a tranquil retreat in the aspen forests and open meadows of Colorado in a horseback riding adventure. This activity allows your family to spend a quiet and rejuvenating time together while surrounded by the beauty and serenity of nature. You can choose from a variety of horseback riding experiences – from guided tours and chuckwagon dinner rides to afternoon trail rides and overnight camping trips.
Mountain biking
Telluride's rugged mountain terrain and forested tracks are excellent for mountain biking, making the sport a popular outdoor activity during the summer. Grab a biking trail map in Telluride Mountain Village and you're all set to hit your bike pedal through former railroad tracks and pastoral meadows. Challenging trails take experienced bikers to old mining roads and basins high above the box canyon.
Sharpen your biking skills like a pro in Telluride Bike Park or join group guided tours in traversing the area's numerous biking trails.
White water rafting
Telluride locals and visitors set out for a wet and wild adventure on the region's scenic waterways. Three rivers – the San Miguel River, Dolores River and Black Canyon of the Gunnison River – provide exciting water rafting opportunities.
From leisurely floating to dramatic rides on raging rapids, experienced guides can take you on an exhilarating watery adventure. Check with your guide before booking a tour as some rafting tours have age restrictions.
Annual festivals and events
Since its mining town days, festivals have been a part of Telluride. Miners and their families would celebrate events as a respite from the long hours spent on the mines. Evolving into a luxury ski resort town, Telluride has preserved its love for celebrations and has become a mecca for festivals and special events.
Fans and enthusiasts has been making an annual music pilgrimage to this event since 1974. Focusing on Bluegrass music and a variety of other genres, the Telluride Bluegrass Festival is held around the summer solstice each year in Town Park. It is a four-day mountain party with a laid-back vibe, with most attendees bringing their blankets or watching from lawn chairs.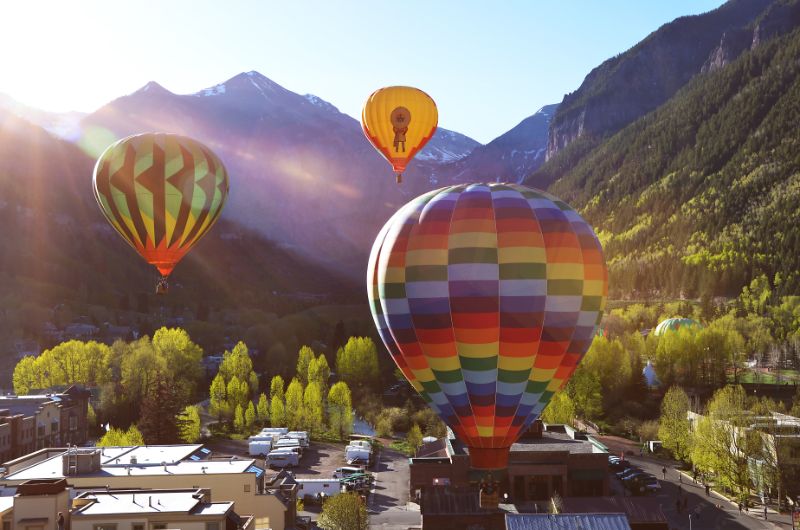 Held every first weekend of June, the Telluride Balloon Festival offers a visual feast as the sky fills with the colorful hot air balloons gliding effortlessly over aspen forests. There are also plenty of opportunities to ride in one and get a bird's-eye view of the breathtaking sight below. At night, the balloons are anchored down, brightening the horizon.
A celebration of automobiles set amid the autumnal foliage of the San Juan Mountains, Autumn Classic is a spectacular display of high-end restoration, vintage, and exotic vehicles. The event brings automobile, motorcycle and aircraft enthusiasts together, fostering a family-friendly community event.
The Telluride Wine Festival gathers the culinary and hospitality community to showcase exceptional wine and food from skilled chefs and winemakers around the world. The event serves more than just drinks and good food, as it supports the regional farmers to stimulate the local economy. It also educates the community about food sustainability and healthy eating habits.
Ranked by film experts as one of the top five film festivals in the world, the Telluride Film Festival is a world-class event celebrating the best of cinematic works from around the globe. For over 40 years during Labor Day weekend, famous actors, directors, and other film luminaries come to the much anticipated festival to premiere stellar and potentially award-winning films. To purchase a pass , click here.
Dining and entertainment
Telluride may be a small town but its culinary offerings are certainly sizable. The town's dynamic dining scene features restaurants, cafés, and breweries, with scenic mountainside views or housed in historic buildings, blending the charm of an alpine town with cosmopolitan flair.
These are some of the must try places.
Brown Dog Pizza
110 E Colorado Ave, Telluride, CO 81435
One of the best rated restaurants in the town, Brown Dog Pizza won 1st place at the Pizza World Championships in Parma, Italy. Serving classic American-style pizza since 2001, their Detroit style pizza is a favorite Telluride staple.
The Butcher & The Baker
201 E Colorado Ave, Telluride, CO 81435
Boasting a great location with fabulous views on Main Street, this bakery and café takes pride in its farm-to-table offerings. Breads and pastries are handmade fresh daily and the menu showcases dishes making use of local produce.
Owned by award winning chef, Eliza Gavin, this upscale restaurant flaunts an impressive menu and charming setting, perfect for date night. Its thoughtful offerings include some of the best steaks in town, as well as full -flavored vegetarian dishes.
Cosmopolitan
301 Gus's Way, Telluride, CO 81435
This elegant restaurant sits across the street from the Gondola in the Hotel Columbia. Its fine dining selections range from seafood, steak, and sushi to heavenly desserts. The extensive wine list goes perfectly with the inventive dishes on the food menu.
The Coffee Cowboy
131 E Colorado Ave, Telluride, CO 81435
This stand-alone coffee truck is Telluride's most unique café. It is the perfect place to bond with the locals while sipping on hot espresso, iced latte, chai tea, chocolate drinks and delicious smoothies.
Historic Bar At Sheridan Hotel
231 W Colorado Ave, Telluride, CO 81435
A beloved watering hole since 1895, the Historic Bar is located within the Sheridan Hotel. Relish an après ski cocktail or draft beers at this signature Telluride attraction while hanging out with friends and enjoying live music.
Other activities
Soak in natural hot springs
Whether it's winter or summer, your Telluride experience won't be complete without immersing in the neighboring town's luxurious mineral springs. Take a breather from all the adventures and soak in refreshing natural hot springs found around the area for the ultimate relaxation.
Tucked in the town of Ouray, just a little over an hour's drive from Telluride, this family-friendly resort provides the rejuvenating effects of natural geothermal water in five pools, as well as the fun of water play equipment for kids.

Also found just about an hour's drive from Telluride, this unique resort is a repurposed ghost town with rustic log cabins and vintage buildings that now serve as luxurious lodging and dining places. Among the resort's offerings are natural hot springs that provide the ultimate pampering.

Providing an exceptional clothing-optional natural hot spring experience, this resort also features an amazing campground that both adults and kids will surely enjoy. The water of the mineral baths here is never heated nor treated, and the outdoor pools offer fantastic views of the San Juan Mountains.
Tour the Telluride Arts District
Telluride is a vibrant hotspot for the arts and the Telluride Arts District is at the center of this creative culture. The district is a haven of art and cultural activities participated in by various artists from around the region. Check out the calendar of events here.
Shop local at the Farmer's Market
Located in the heart of downtown, this organic outdoor market features a bounty of locally grown produce and homemade goodies, from fruits and vegetables to jams, honey and cheese. You will also find painstakingly handmade arts and crafts.
Watch a performance at the Sheridan Opera House
A historical and cultural icon, the Historic Sheridan Opera House is dubbed as the crown jewel of Telluride. Built as a Vaudeville theater in 1913 by the miners, this cultural gem is listed on the National Register of Historic Places. The intimate 238-seat theater has played host to the Telluride Comedy Festival since 1999, as well as to various events ranging from concerts and movies to lectures and recitals.
Getting around Telluride and nearby Telluride Mountain Village
While in Telluride and the neighboring Telluride Mountain Village, walking amid the exquisite scenery is perhaps the best means of getting around. But if you need a faster and less strenuous mode of transport, you'll find these options to be equally desirable.
The Gondola
Telluride's signature gondola connects the town and its sister community, Telluride Mountain Village. First opened in 1996 with the purpose of improving air quality and reducing the town's carbon footprint, the Gondola – commonly referred to as "G" by the locals – is a unique transportation system that uses electricity partially harnessed from solar power.
With the complimentary gondola ride, residents and locals can travel efficiently between the two towns and enjoy the marvelous views of Telluride Box Canyon and the San Juan Mountains. The gondola runs daily all year-round, from 7:00 AM to 12:00 midnight.
Galloping Goose
Named for the gasoline-engine "rail bus" system used between the 1930s and the 1950s, Galloping Goose transit buses run a loop every 20 minutes from 7 a.m to midnight. The bus rides are free and make regular stops at Town Park and other major sites.
Dial-A-Ride
A complimentary shuttle service for visitors and locals of Telluride and Telluride Mountain Village, Dial-A-Ride takes you from the gondola to your home, resort hotel, or other destinations in Telluride Mountain Village.
Ride-sharing services
While traditional taxis are not available in Telluride, you can safely and conveniently take ride-sharing services. Rates vary and some routes may require more than one passenger to book.
Bike Rentals
Gear up to cruise around the town on rental bikes. Take your pick from providers like Telluride Sports, Bootdoctors, and Box Canyon Bicycles. For your convenience, it's best to choose an option closest to your resort hotel or home.
Telluride Express
For airport transfers, weddings, and charters and tours, Telluride Express provides door to door shared-ride and private accommodations.
Discover the many benefits of owning a home in Telluride
No matter the season, Telluride is bursting with outdoor attractions, adventures, and unique things to do. Take the hassle off your family vacations by having your very own home in this mountain paradise.
Whether as an investment property or a place to enjoy life and quality time with the family, owning a home in Telluride is a worthwhile endeavor.
Call top local expert T.D. Smith to know where and how to start achieving your real estate goals in this highly coveted community. Working with discerning clients for over 50 years, T.D. has the "Mountains of Experience" to help you find the perfect property and close the best sale in Telluride.
Contact T.D. Smith and his team today at +1 970.729.1577 or send an email to td@tdsmith.com.